New Digi AnywhereUSB hub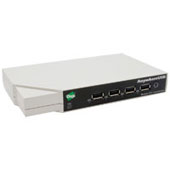 At the client site that I'm currently working they are using these USB anywhere hubs from Digi. These USB hubs give you the ability to use USB on virtual machines over a TCP/IP connection. Each USB hub can service one virtual machine and holds up to 4 USB ports.
The down side of these USB hubs is that they can take up quite some room in the datacenter. The currently used type  isn't rack mountable and for each virtual machine you  need a new USB hub, even if you don't use all 4 ports.